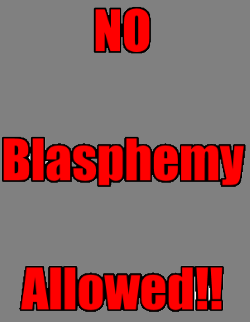 Last week during the current session of the UN Human Rights Council, when statements were allowed on a special report on Freedom of Religion or Belief, the representative from Denmark agreed with the report that anti-blasphemy laws needed to be repealed but her government elected to leave an anti-blasphemy clause in its penal code. The International Humanist and Ethical Union (IHEU) was not amused.

Ms Vega Saenz explained that a group of experts under the Ministry of Justice had been charged by the Danish Parliament to look into the legal and practical implications of a potential repeal of their anti-blasphemy clause and found that despite the clause not having been invoked in court since the 1970's, it is "legally important" in that it gives the state the possibility to stop people burning bibles and Korans, and to punish those who do.

The decision to maintain the law, Ms Vega Saenz argued, was based on a number of factors, including the importance one attaches to free expression in relation to protecting religious feelings, protecting minorities and sustaining societal order.

IHEU's head of delegation, Elizabeth O'Casey, said:

"To defend a highly flawed law, clearly in conflict with freedom of expression, on the the basis that it is currently unused, but may be useful in the future to suppress hypothetical symbolic acts, even though there are already other laws in place that criminalise genuine incitement to hatred or violence, is backwards logic, and especially disappointing in the current climate of terrorist actions against expression on religion. European Union guidelines from the External Action Service are very clear when it comes to 'blasphemy' laws outside the EU and the necessity of free expression, including contesting and "ridiculing" belief, and it's a great pity that states like Denmark continue to undermine these positive principles at home."
Denmark seems to be okay with letting religious people use violence to snuff out free expression.
Related posts