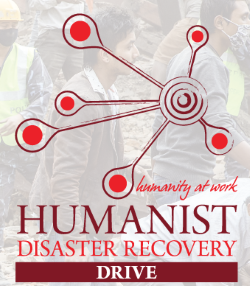 Foundation Beyond Belief's Humanist Disaster Recovery drive and the Freedom From Religion are raising funds to help victims and families affected by the Nepal earthquake. Those are at least two non-religious groups trying to help Nepal. If you can help out, send some cash through them.

A 7.8-magnitude earthquake struck Nepal on Saturday, April 25, 2015. The area surrounding Kathmandu was hardest hit, while an avalanche was triggered on Mount Everest and deaths have been reported in surrounding countries. The government of Nepal has confirmed more than 5,000 deaths and is accepting international aid.

Our first beneficiary for this drive is The Women's Foundation Nepal. Despite damages to some of their facilities, their main office in Kathmandu was left unharmed. They have been able to use their facilities, including their offices and schools, to shelter those in need. Their staff members have been participating in the rescue operations and they have been providing food and resources to anyone in need. Currently, Women's Foundation is focused on meeting the emergency needs of survivors, but in the coming weeks they will move into recovery mode as they help their community pick up the pieces.
A good thing is 100% of your donation will go to the people in Nepal. Foundation Beyond Belief is not taking any as overhead.
You can also donate through the Freedom from Religion Foundation donation page. Just pick 'Nonbelief Relief' in the special projects drop-down
"There are many established secular charities that respectfully serve people in need regardless of religion, whose purposes are to help — no religious questions asked, no bibles thumped or other hidden-agenda proselytizing," noted FFRF Co-President Annie Laurie Gaylor. Nepal is 80% Hindu and 20% Buddhist — all the more reason to avoid any hint of proselytizing by U.S.-based charities, she added.

While FFRF chose the UN World Food Program and Doctors Without Borders for its donation, FFRF reserves the right, as the Nepalese disaster and needs unfold, to designate donations for Nonbelief Relief for another or additional secular relief charities helping the Nepalese.

FFRF's 'Nonbelief Relief' Fund contributes $10,000 to help Nepal
Any help sent to Nepal will be appreciated as they struggle to recover from the earthquake.
Related posts