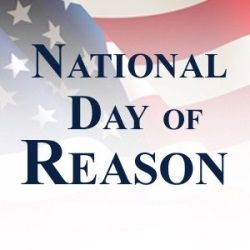 Today is the day secular people mark the importance of reason to help humans solve human problems. It is a day opposed to the aims of the National Day of Prayer which promotes magical thinking and doesn't help address the real basic needs of average Americans.

National Day of Reason is the first Thursday in May each year. Here is a blurb for a post I published about today in 2013:
The day is a secular celebration for humanists, atheists, and other secularists and freethinkers in response to the National Day of Prayer, that is unfortunately a legal holiday in the United States. This country has many issues from high unemployment to religious conservatives attacks on women's rights. The government shouldn't be holding national days of prayer, we should be using reason to help solve human problems.
Have fun today!
For more information:
---
*Note* This post will be used to celebrate National Day of Reason each year because I don't like to rewrite the same post over and over again… 🙂 . Of course if there is a major story concerning the day I will publish a separate post in the future.
Related posts