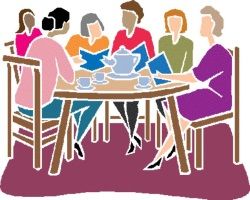 The point of this blog is to provide an online Humanist community, but I also think that there is a place for local Humanist groups. I've been a member and a leader of a group off and on for more than twenty years. I've seen what works and what doesn't. Here are some tips and things to look for in a well run Humanist group.

This is Part 1 of 2
Consensus
The primary decision making, priority setting, and programing for a Humanist group comes from building a consensus. A well run group is able to offer something for every kind of Humanist. Leadership should also include all stratums of Humanists.
Different flavors of Humanists exist and seem to be similar to other groups in the world. You have people who want to make changes through activism. You will have members who focus on the social aspect and you might have prospective members you want to join in all the activities as well as moving into a leadership position.
A consensus is not a 100% agreement on everything so don't worry if members or leadership might not like your idea to have a Sunday morning "service" with songs and a "shared experience".
Personally I like attending meetings with a speaker and a question and answer session afterward but I get that others might like to have a book club or bar crawl for their Humanist activity. Others might want to march and hold signs in front of the state house to protest a violation of a civil right.
The main point is that you try to offer as much as you can for the different flavors of Humanists.
Money
Money to run the group and for promotion is essential. When a group is small you could "pass the hat". Later, you could offer memberships for a set amount of money or ask people to donate on a regular monthly basis.
If you do start asking for paid memberships or regular donations you also need to offer something in return for that donation. It isn't enough to just have one or two events a month. You might need to fund a website or membership fees for a social media promotion service like Facebook or Meetup.com.
You need to spend money to generate more money coming in. Having thousands of dollars in the bank is great as long as you have strong programing and events to show for it. I knew a group once that had $10,000 in the bank yet it's board complained about spending $500 on T-shirts with the group logo. That is what I'd call a missed opportunity.
People will donate money or pay for memberships if they get something tangible out of the transaction. Not everyone joins a group to feel good about themselves. Something more than a good feeling could be as simple as a membership card or a T-shirt or some other kind of merchandise. It might also be a discount to some business, for Humanist products with a particular vendor, or even discounts on the fee for a big group event.
If you have a large expensive event that will need people to pay a fee to attend, like a formal luncheon or dinner, make sure the event has a program that matches the expectations from paying the fee. If someone pays $30 per person for a dinner event they expect more than fast food and singing songs. For those big events your group should have a special guest or speaker. You need to fill seats to break even on the costs and the guest can draw in potential members who want to see the guest and didn't even know your group existed.
It is also very important to know what your group mission or message is and to use that in soliciting donations. People won't donate if they don't know what you are for or what you do. Knowing the message also helps in planning meetings and events and helps in promotion.
Promotion
Just as important as money, promotion is something your group has to do constantly. Never miss an opportunity to promote your group, your next event, next meeting, or your message.
Your group should be on all the social media platforms available and there should be posts if not daily then weekly. Posts should be made to highlight the next meeting or event and should be posted well in advance – for example the speaker for March should be promoted in January or sooner if you have the person confirmed.
Don't miss the opportunity to promote the NEXT event at the current meeting or event. Take a minute or two to encourage potential members to join or to donate money or talk about your message, while promoting your next thing.
Traditional print or broadcast advertising might be too costly for a group. An ad would need to be run several times at a time when your target audience should be exposed to it for the ad to be effective – generate increased interest in the group or bring in new potential members. One, 1/4 ad buried in the Sunday paper won't be effective unless your group ran the ad for several Sundays in a row.
Your group might be able to get stories or interviews in the local press depending on the reason for it, like having a nationally known person coming to speak or offering a Humanist perspective to a local or national issue. You should also encourage members to write letters to the editor and mention the group or that they are Humanists. This kind of "free" advertising can help in the long run.
Have some business cards, brochures, or some kind of promotional item to hand out at every event or meeting. Have a one page PDF or an electronic version of a brochure ready to email or have available to download by visitors to a website or social media platform.
Data
Group data is also very important no matter how you collect it. All the names, addresses, and phone numbers of your members or potential members are an asset to the group and must be protected like it is money because it is kind of is.
Always have an up to date accounting of how many active members you have and be able to show the changes from month to month. Use some kind of "book" to keep track of this information. You can use a simple spreadsheet program, a physical ledger book, or expensive membership database software. Whatever you use make sure to keep up on the maintenance and audit the information from time to time. If a member asks about their membership or how many are members in general you should be able to answer the question right then or at least within 24 hours.
Try to have a paper trail for everything. Using the Internet saves time but can also lead to having no paper trail. If you take memberships online make sure people fill out a form and download that data into your "books". If people fill out a paper form, file the form for a period of time or digitize it with a scanner.
At meetings and events, keep track of the number who attended and note any new or renewals of memberships. This kind of data will show which meetings and events were well attended and which weren't so you can evaluate your programing.
Also you might want to take a survey of the membership to see what worked or didn't work doing the year. You can also ask for programing suggestions or speaker ideas. This will also give you some idea of the demographic make up of your group if you ask in the survey. You can also use a survey to recruit new volunteers or people interested in moving into leadership of the group. It is very important to talk to your members and find out how they feel about the group even if you don't agree with their take. Be diplomatic and don't argue with the person. Take notes on what was said and share with the leadership and Board.
---
Next time: Programing, Leadership, Structure, and Conflict resolution
Related posts